SPECIAL PROGRAMME 5-28 JULY 2019
Foyer Lounge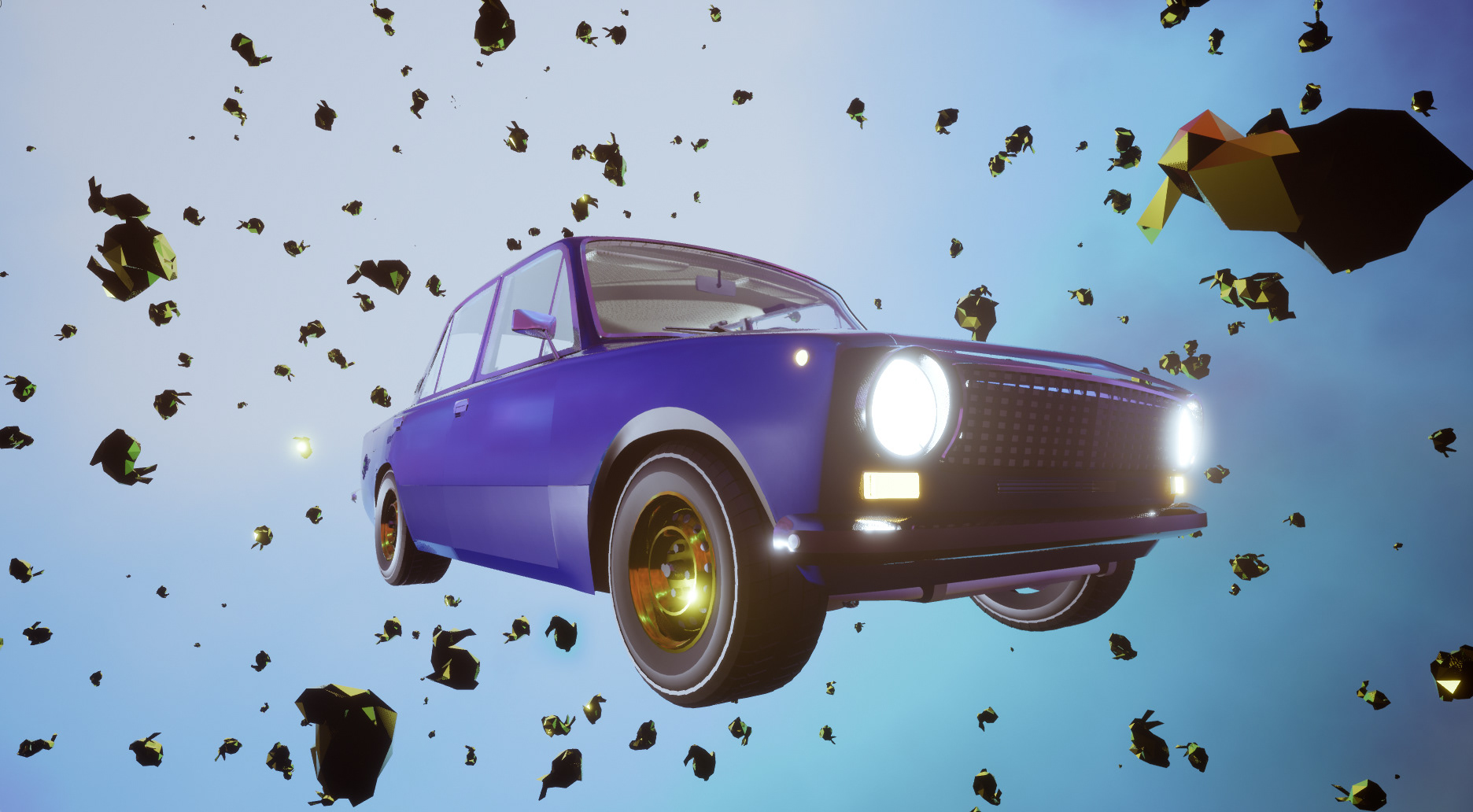 The Museum TV offers a schedule of videos, by and about several artists, from curators and filmmakers, to visitors relaxing at the Foyer Lounge in the museum. Running from 10am to 5pm, the selection of works aims to showcase a variety of approaches and practices, all just as interesting and poignant.
Andras Polgar
Part I_From Punk to Muslim
Part II_Better Youth Project
Part III_Tattoo Removal
Part VI_Synchronise
Adél Koleszár
El Solecito. Mass Graves of Veracruz
Basil Al-Rawi
Baba Gurgur (Father of Flames), 1927
Bénédicte Vanderreydt
I am 14
Flavio Edreira
SPAM
Kate Nolan
LACUNA – Borderlines
Olga Kocsi
VR LADA project
House On The Border
Paddy Cahill
Seán Hillen, Merging Views
RGKSKSRG
RGKS Cribs #1: Christopher Mahon
RGKS Cribs #2: Vivienne Dick
RGKS Cribs #3: Eithne Jordan
Intro

Muslim Punk
The punk scene stigmatised by rebellion and seeking for unconditional ecstasy, also suffered similar distortions due to media like Islam's principles. The subculture of StraightXedge also originated from hardcore punk, uses the self-control keywords of NO SMOKING, NO ALCOHOL and NO DRUGS to forward the message through the power of music. The movement has also reached the Archipelago of Indonesia, which is the most populous Muslim country in the world, where 90% of the 260 million people are Muslims. The Muslim Punk project aims to introduce the Indonesian punk scene. Outlining through personal stories how the energetic punk ideology can exist with the values of Islam's inner calmness.
Sponsored by József Pécsi Photography Grant and the Ministry of Culture and Education, Hungary
Chapter 1 – From punk to muslim
Interview with Reza Purnama; founder of Punk Muslim Bandung, Bandung 2018.
Music Straight Answer
Chapter 2 – Better Youth project
interview with 'Aik' Aditya Abdurrahman; teacher, founder of Better Youth Project, Surabaya 2018.
Music Straight Answer
Chapter 3 – Tattoo removal
Interview with Muhammad Iqbal; administrator of Tattoo Removal Program Surabaya,Surabaya 2018.
Music Straight Answer
Chapter 4 – Synchronise Fest 2018.
Jakarta 2018.
Music Straight Answer
About András Polgár
András Polgár is a researcher using documentary photography and multimedia as a tool to bring positive stories. Graduating as an Urban Designer with an interest on Cultural Anthropology has inspired him to discover the world of the metropoles. In his projects, András is focusing on transition, identities, and through personal stories, those individuals members of subcultures. His long-term documentary projects are TransX – Changing identities in the island paradise of Bali, To get Her forever – The most populated still living matriarchal society on Earth and Muslim Punk. Currently living in Budapest with his Minangkabau wife, since January 2015, he has been focusing on the Archipelago of Indonesia as working environment.
Intro
In her works during the past year, Adél Koleszár has been examining human violence, and how its constant presence transforms the individual, his or her environment, and the social structures. The frame of the video contains confession from people either who are looking for their loved ones got lost or due to the drug war in Mexico either have had killed people. Meanwhile the main theme of the video is working with the confession of a group of women in Veracruz, who are digging up by the biggest mass grave of Latin America by themselves. How they feel, where do they find hope, and if they can.
The Colinas de Santa Fe neighborhood on the outskirts of the port city of Veracruz looks like hundreds of other residential housing developments built across Mexico in recent decades. Streets are lined with identical brick homes — bungalows with two bedrooms, painted pink, blue or green and advertised as being close to a shopping mall. Yards are cluttered with children's bikes, basketball hoops and satellite dishes. But on the edge of the estate, fields for grazing cattle hid thousands of decaying body parts, including more than 250 skulls, buried in a number of pits. I am still dumbstruck by the extent to which normal life seems to carry on next door to such terrors. At least 1,400 bodies were dug up from mass graves across the country between 2009 and 2014. And those are just a fraction of the 176,000 murders that police have counted here over the last decade. The site was discovered not by the police but by mothers searching for their disappeared children. The mothers went to the site and began digging.

At the same time, Mexico has a trillion-dollar economy and is the eighth-most-visited tourist destination on the planet. The government denies there is an armed conflict going on. The conflict is neither just crime nor civil war, but a new hybrid type of organised violence.

The cartels make billions smuggling heroin, cocaine and crystal meth to America, as well as from a portfolio of rackets from kidnapping to oil theft. That money is used to bribe police and politicians, who in turn help the cartels to eliminate anyone who stands in their way to making more money. The victims are not only rival cartel operatives but also include customs workers who won't take bribes, inconvenient journalists and many who simply witnessed the wrong thing at the wrong time — "civilians," all.

Yet at the same time, for many Mexicans, life goes on in apparent normality — with no tank battles or aerial bombardments. This is what separates the conflict from a civil war, even though the death toll is comparable. The pattern of killing is perhaps most similar to that of the death squads of a dictatorship. And in Colinas de Santa Fe, children could play obliviously while at their doorstep was a mass grave akin to those left by the Islamic State.

Ian Grillo, New York Times
About Adél Koleszár
Adél Koleszár (1986) is originally from Hungary, where she graduated with a Masters in Fine Art Photography at the Moholy-Nagy University of Fine and Applied Arts, after receiving a BA degree in Social Sciences in Budapest. In the past years she has been working and living in Mexico, where she works with the aim of completing her visual research on human violence. In 2013 she arrived to the country thanks to a Mexican Governmental Artist Residency Program, in 2014 her project on contemporary religions in Mexico was selected as finalist by Magnum Photos & Ideastap Photography Award, in 2015 she was the winner of the Budapest Portfolio Prize, in 2016-17 receiver of the Pécsi József Scholarship which supports the work of young Hungarian photographers. Between march and may of 2016 she taught locals in several cities along the US/Mexican border as part of a self initiated, open and free to everyone workshop project, Vision del Norte, with the aim to teach the participants how to use the visual language of photography to express their thoughts about the reality they are living in, and share it with a wider public in a form of a book which compiled the vision of each participants. The same year she was the solo exhibitor of the Discovery Show section of the Fotofestiwal Lodz, and her book "New Routes of Faith" was shortlisted on the Unseen Photography Dummy Award. Her work was exhibited and published widely in her country and internationally, amongst in Berlin, Mexico City, New York, Arles, Vienna, and featured on Foam Spotlight, Vice Mexico, Fotografia Magazine, Der Grief. Currently she keeps working on new projects, as well as continues the investigation on the alternative religious forms in Mexico.
Intro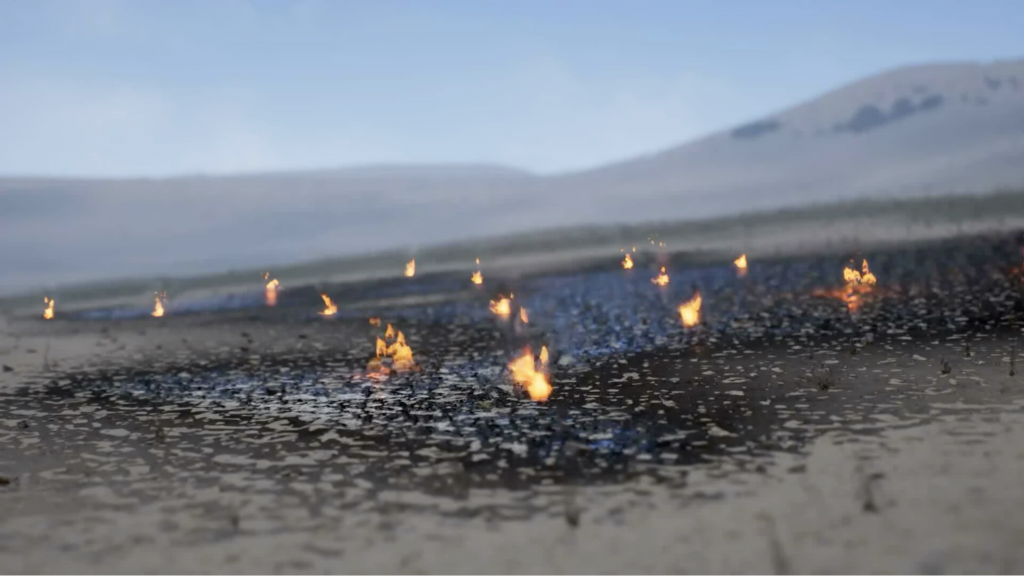 Baba Gurgur (Father of Flames), 1927 CGI animation, 15 mins
This work derives from a black-and-white archive photograph taken at Baba Gurgur in northern Iraq in 1932, the site of Iraq's first oil discovery. It depicts natural gas fires seeping through cracks in the rocks, 'eternal flames' believed to have burned for at least 4,000 years. These perpetual flames heralded the birth of Iraq's oil industry. When oil was struck there on October 15th 1927, 95,000 barrels of oil per day gushed high into the air for 10 days. Baba Gurgur became the centre of a resource struggle between the British, who controlled the territory at the time, the French, who controlled optimal pipeline routes, and the Americans, who feared the glut of Iraqi oil would threaten their dominant position in the market at the time. The fires at Baba Gurgur are still burning today, surrounded by the Kirkuk oil production facilities, still a contentious and vital strategic resource.
The archival photograph condenses geological time and the origin of current middle-eastern geopolitical conflicts, economic ideology, and environmental catastrophe. This work is created using a video game engine, a meditation on the technology used in military conflict training and entertainment. It begins as a macro view, slowly tracking back to reveal a simulation of the landscape as based on the original photograph. The work creates a virtual bond with the past, transporting the viewer to a temporal space that encourages reflection on the provenance of current traumas.
About Basil Al-Rawi
Basil Al-Rawi is a visual artist working with photography, moving image, and simulation. Construction, staging, and intervention with 'the real' are central to his process; photographs are staged, images subtly altered digitally, and virtual environments created. His practice is conceptually driven and the seed of most works is usually a single image that invokes a desire to investigate what it represents. These images are either taken or found, and the landscapes of memory, politics, and socio-economic traumas are primary sources. His approach is multilayered, incorporating different mediums based on the underlying theme of each work. Permeating his practice is a desire to encourage the viewer to look differently at the world, through mediating, rearranging and reconstructing image-based reality.
Basil is a cinematography graduate of the National Film School at IADT and hold an MA in photographic studies from the University of Westminster. In 2012 he was selected for Axisweb's MAstars programme for his photographic project Façade, which subsequently exhibited at Fresh Faced + Wild Eyed at The Photographers Gallery in 2013. He's exhibited at the Institute of International Visual Arts (London), Ballarat International Foto Biennale (Australia), Foundation 14 and 15 (Tullamore), IMMA, RHA, PhotoIreland, Rua Red and The Goethe Institut (Dublin). In 2019 he received a scholarship from the Glasgow School of Art to pursue PhD research at the School of Simulation and Visualisation.
Intro
I am 14 is a crossed portraits of three teenage girls aged 14.
Valentine lives in Brussels, in Belgium.
Ru'a lives in the refugee camp of Dheisheh, in Palestine.
Loraine lives in Lubumbashi, Katanga, in Democratic Republic of Congo.
Today, at 14 years of age, youngsters take pictures of themselves and look at each other almost compulsively. What transpires about adolescence through these social network images? The photographer, Bénédicte Vanderreydt investigates what she sees as a complex set of mirrors in which we no longer know who is looking and who is being looked at. The voices of these three girls living in different parts of the world draw a parallel trough the point of truth.

Directed & images by Bénédicte Vanderreydt
Editing by Laura Delle Piane & Sodadeth San
Sound by Renaud Duguet
"Adolescence, this beautiful, somewhat repulsive phase. What better way to gain access to it than with the help of a camera? Whether Palestinian, Congolese or Belgian, today it is before a lens (often their phone's) that 14 year-old girls try on and discard, piling them up in small reject heaps, a series of identities just as they to do with clothes in front of the mirror of their wardrobe. They look at themselves and show themselves, they try themselves out and start again.
It is this kind of representation, now spreading widely on social networks, that photographer Bénédicte Vanderreydt beautifully captured with Valentine, who lives in Brussels; with Ru'a, who lives in the Dheisheh refugee camp in the West Bank; and with Loraine, who comes from Lubumbashi, in the Democratic Republic of Congo. Her film I am 14 is a succession of images characterized by slick aesthetics and saturated colours, as dreamlike as those by the American photographer Gregory Crewdson, which they evoke down to their hyper-controlled composition. They create a subtle play of mirrors: a group of girls take pictures on a roof, in a pool, in the middle of the school's corridors, as they do every day, maybe even every minute. But the heroine looks at the photographer, and thus at the viewer, as if to say: "Look, this is my life." She takes us to task, boldly showing that she is not fooled by a circus orchestrated by others, nor by the picture composed by the photographer; thus she regains power. Isn't that what adolescence is all about, desperately wanting to belong to the group and yet stand out at the same time?
On the soundtrack that complements the images, we hear them talk one after the other. The one that says she lives "in an open-air prison" (Ru'a), the one who dreams of a "better life in Europe" (Loraine), the one who complains about people assuming she has "a perfect little life" while she is stifled by it (Valentine). It is not only confinement that unites them: of course their bedrooms are alike, just like the jaded attitude we discover at times. And especially their ease in front of the camera. The situations are certainly theatrical, the poses arranged, but a raw, undeniable truth still shines through."
Elisabeth Franck-Dumas, Rédactrice en chef adjointe, Culture à Libération
About Bénédicte Vanderreydt
Bénédicte Vanderreydt is a Belgian photographer graduated with honours from IHECS (MA II) in Brussels and then from the drama school Xavi Gratacos in Barcelona, she eventually deepened her knowledge in photography at Gobelins School in Paris. For the past years Vanderreydt has been pondering over narration and explores fiction staging characters who belong to a sociological reality.
Bénédicte Vanderreydt won the 2016 GRAND PRIX WINNER of Tokyo International Photography Festival Competition with her last series I Never Told Anyone and is third winner IPA for Fine Art category – 2016. Her work has been exhibited widely with her most recent exhibitions being SINGAPORE INTERNATIONAL PHOTOGRAPHY at Gillman Barracks, LAGOSPHOTO FESTIVAL in Nigeria, FOCUSLA in Los Angeles and PHOTO 17 in Zurich. Her work, film and photographs, I am 14, is part of the collections of MUSÉE DE LA PHOTOGRAPHIE de Charleroi in Belgium and BNF (Bibliothèque François Mitterrand) in Paris. I am 14 installation was selected in SALON D'ART CONTEMPORAIN DE MONTROUGE for the 60th anniversary and has been internationally featured and exhibited.
Intro
SPAM intends to shine a different light on the process of Catalonia's attempt to "separate" itself from Spain – by holding a non-authorised referendum on October 1, 2017 – as well as its political and social consequences.
The streets were my workplace. I shot graffiti, wall paintings, tags, posters, political messages, particular anomalies on the walls, on the floor, incongruous scenes . That was my process of documenting and narrating part of the history of this very particular conflict, born through the history of the peninsula and deeply rooted in its people; disputed by some and loved by others.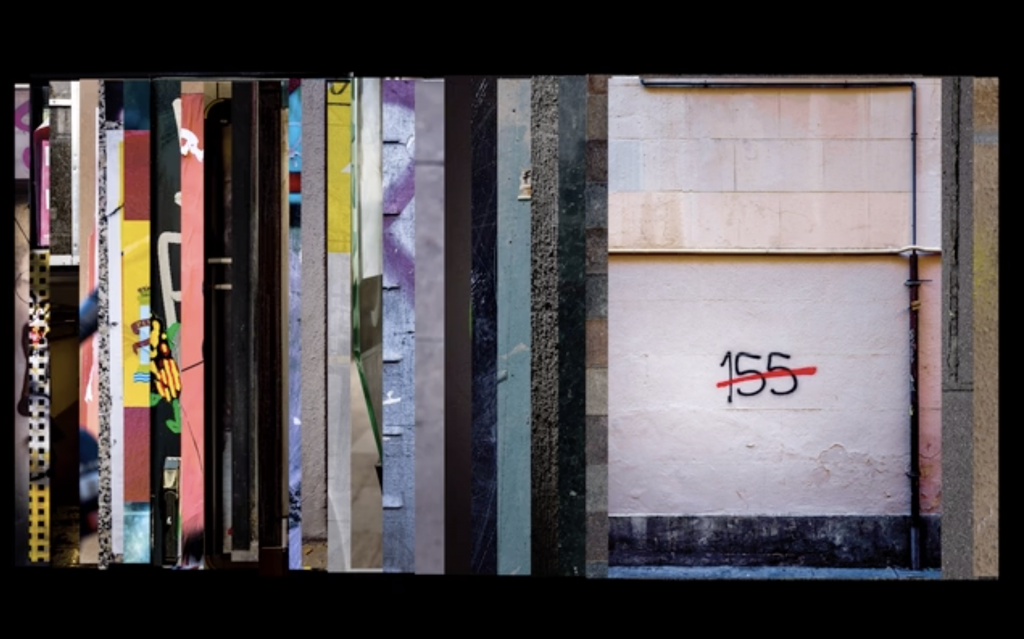 During the years 2017 and 2018, the streets of Catalonia were taken by a large number of visual manifestations. All, in some way, tried to create some form of reaction to the ideas defended by the two political sides of the process. Due to the lack of communication between the Catalonian and the Spanish Government, the manifestations increased and the tone rose significantly.
The lack of communication between governments has had the unintended, but perhaps positive, consequence of creating a continuous "dialogue" – a kind of catharsis – between citizens and governments through banners, posters, creative acts and also various direct discussions: between citizens in favor and against the process. At times, it was a way to try to find answers and/or solutions to the conflict.
When walking through the streets of Catalonia during this time, shooting with my Camera, I felt that these demonstrations by the people were a kind of "visual war"; the clean or torn poster looked like the "new soldier" or "the wounded soldier". The painted wall was "spilled blood". My photographic document, made with images linked to the process found in the streets, shows the relationship of the people with the conflict itself, the concepts, the messages, the disagreements. The street was the battlefield of the people, without State structures. There was an obvious support of associations or political parties, but also with isolated acts and creative citizens. Everything was discussed: the European Union, the Republic, the Monarchy, the Leaders of all the Parties, Spain, Catalan history, the lack of Dialogue, Negotiation, Corruption, the 155, the Mossos, the Civil Guard, Languages, Freedom, Democracy, the Yes, the No… A certain form of "freedom of expression"!
SPAM was produced on the streets of Catalonia from September 2017, through the 1-O (Referendum of October 1), the application by Madrid of Article 155 (the Government of the State takes control, constitutionally, of the activity of the Autonomous Community of Catalonia), the 21-D (date of the regional elections in Catalonia), and when the new Government was formed in Catalonia, after several months of difficulties (in May/June , 2018), until October 1, 2018 (one year after the Referendum 1-O). A year when, as an outsider, I experienced the process in my very visual way.
The project does not intend to propose any judgment on the matter, and does not intend to be in favour of any particular side of the conflict. From the beginning, I wanted to be equidistant. I was interested in creating a photographic record of the conflict from a different perspective: to explore how the people of "Catalonia" and "Spain" produced their visual manifestations as a form of dialogue, a public manifest to defend their ideas.
Flávio Edreira is a Brazilian Photographer born in 1969, graduated in Professional Photography from SENAC (Brazil, 2014) and Narrative Photography at the International School of Photography GRISART (Barcelona, 2018). In 2018, Project Tormenta was showcased during the 'Five Seconds' Exhibition at the Agustí Centelles Library in Barcelona (October, 2018). Books of my Tormenta and SPAM projects were exhibited at Fiebre Books Madrid 2018 at Grisart's stand. SPAM was also selected and presented in video format at the Fundació Foto Colectania de Barcelona (November, 2018).
In 2019, he was a finalist at the Tiradentes Photography Festival – "Foto em Pauta", Brazil (march, 2019). As a member of the the Veo Collective, he presented and was the coordinator of the Project "Veinte Pequeños Azulejos Grises", winner of the call for the FestFoto Poa International Photography Festival of Porto Alegre, Brazil (April, 2019). SPAM was a finalist at the Siena Photo Festival 2019 in the story-telling category (Italy), Finalist of Descubrimientos PhotoEspaña 2019 (Madrid, Spain), and in June it was also selected to be presented during the V Fórum Latino Ameicano de Fotografia on the "Share your Portfolio Plataform" (Sao Paulo, Brazil).
Intro
What is the future of the Irish border? With the new Prime Minister comparing it to the moon landing, the lack of knowledge and effect of the Troubles it seems to be anyones guess. This piece gives the border back to the people to decide, create and play with their land.

LACUNA – Borderline
LACUNA is a photographic and audio/visual work evoking contemporary experiences of children living on the Irish border. The diffusion of the physical border in recent years means that for young people there has been minimal impact on physical movement. The prospect of the introduction of an international border between the EU and the UK with Brexit gives rise to new uncertainties about the future. LACUNA will continue along the Irish borderlands until the centenary of partition in 2022.
About Kate Nolan
Kate Nolan is a visual artist continuously drawn to 'in-between' spaces. Her practice is centered on sustained engagement and dialogues with communities in locations where identity and territory are contested. Combining still and moving images with stories from individuals she highlights the contradictions and tenuous relationships between political borders and cultural identity. In 2019 she received the Arts Council Visual Arts Bursary and was selected for an artist residency at Headlands Center for the Arts, San Francisco and The Digital Hub, Dublin, Ireland. Her work has been exhibited widely in Ireland and internationally and held in public and private collections in Japan, USA, France, Portugal, Mexico, UK and Ireland.
Intro
Olga Kocsi's practice based research is hyper-playful, demonstrating the modus operandi of an artist whose everyday is questioned oftentimes with amusing results. Her video works specifically evidence her witty humour and conceptual approach.

We're in the universe of emptiness and void, going along the paths of Möbius space in twisted reality. I transformed my mother's blue LADA 1200 from 1987 into the virtual reality. One can get into the car, put on the VR glasses and they'll be part of the hare-universe. The Lada can be controlled with the steering wheel and its gas- (go forward), transmission- (turn up) and brake pedals (turn down). Golden rabbits are floating around the VR Lada in an imaginary dimension while the sound of the Little house and the voice of my Mother fill the universe. The Lada itself is floating in an illusion where memories and time-travelling into the past are created. An endless wandering, the Little house is present but only in sound somewhere in the timeless void.
House on the Border is a complex project include a video installation and a book. The video included the book and the book included the video. The timeline is möbius.
I made my own Taschen book and took it back to the shops. Documentation is more important than the reality.
Olga Kocsi (1987) attended Moholy-Nagy University of Art and Design between 2008 and 2016, where she obtained Media Design BA, ~MA and Visual Culture and Design Teacher degrees. She's currently also partaking in the university's Media Arts doctorate program. In 2011 she won an Erasmus scholarship in Willem de Kooning Academy in Rotterdam. Most influential foundation of her works is the "Little House" where she grew up, and her personal stories lived inside it. In her installations which provides multisensorial experiences, she works with topics which lies in the cross section of various scientific fields, such as: the relation between reality and virtual reality and it's potential evolution in the future; pushing and mapping the borders between private and public spheres; or time travelling. It's incredibly important for her to actively involve the spectator via creating unorthodox situations for them. She works and lives in Budapest.
Intro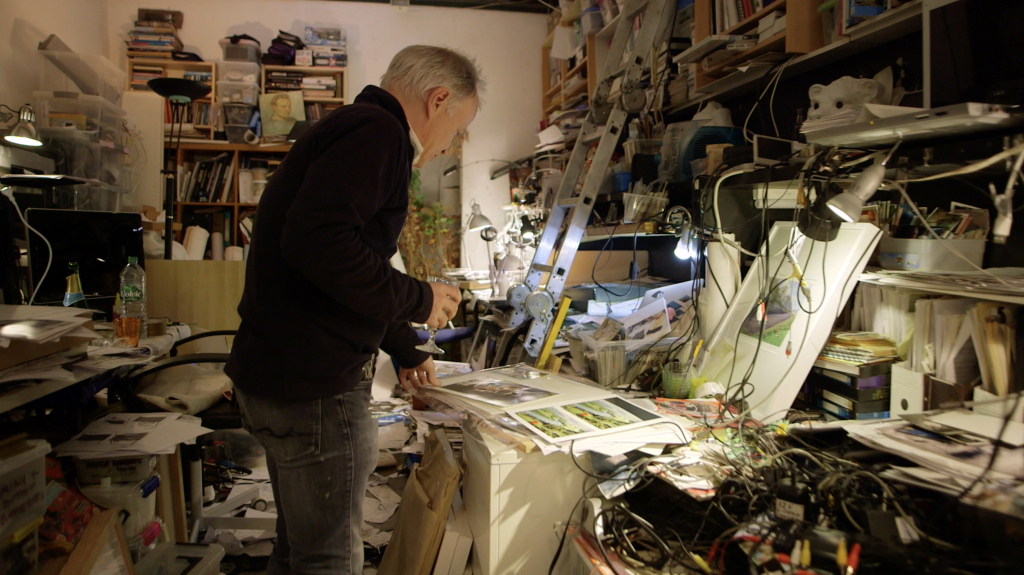 Paddy Cahill's portrait observes artist Seán Hillen as he creates a beautiful new photomontage. He shares thoughts about his work and recent personal discovery.
Sound Designer – Mike Glennon
 – mikeglennonaudiovisual.blogspot.ie
Director of Photography – Basil Al Rawi
 – basilalrawi.com
Producer – Tal Green
Director & Edit – Paddy Cahill – paddycahill.com
WINNER
Best short documentary award at the Galway Film Fleadh 2016
'Francie' for best short documentary at Clones Film Festival 2016
OFFICIAL SELECTION

Galway Film Fleadh 2016
IFI Docfest 2016
San Francisco Irish Film Festival 2016
Kerry Film Festival 2016
Clones Film Festival 2016
London Irish Film Festival 2016
Shebeen Flick Berlin, 2017
Irish Film Festa 2017
Ciné Gael Montréal Irish Film Series 2017
Belfast Film Festival 2017
Irish Film Festival Australia – Sydney 
2017
Irish Film Festival Australia – Melbourne 
2017
Fastnet Film Festival 2017 – Scull Cork
 2017
The Mediterranean Film Festival – Split Crotia
 2017
The Long Night Of Film Festivals – Berlin 2017
RTÉ Shortscreen – Ireland 2017
Krafta Doc International Art Making Festival – Glasgow 2017
Aer Lingus in flight selection – December 2017
Intro
RGKS Cribs is a season-by-season plunge into artists' studios. Featured artists are commissioned to produce a video clip for online screening at rgksksrg.com, followed by a one-off event staged with an audience in their studio, home, or site of production.

RGKS Cribs #1: Christopher Mahon
Online: January – April 2019
Artist: Christopher Mahon
Production: RGKSKSRG
Videography: Cian Brennan
Music: Symphony No. 3 in D Major, D. 200: I. Adagio maestoso – Allegro con brio. Kammerorchester des Nordwestdeutschen Rundfunks, Orchestra, Performer – Georg Ludwig Jochum, Conductor, Performer – Franz Schubert, Composer. Copyright: 1955 – BNF Collection 2015
Design: Alex Synge / The First 47
Technical Support: Ciarán Hickey
Christopher Mahon (b. 1988, Dublin) is a sculptor and choreographer. Currently a resident artist at Rijksakademie van beeldende kunsten, Amsterdam, 2018 – 2019, previously Mahon was a resident artist with Daghdha Dance Company, Limerick, 2009 – 2010. To date, his work has been shown at venues including IMMA (Irish Museum of Modern Art), Dublin; Project Arts Centre, Dublin; Arko Arts Centre, Seoul; Ménagerie de Verre, Paris; and Townhouse Gallery, Cairo.

RGKS Cribs #2: Vivienne Dick
Online: April – July 2019
Artist: Vivienne Dick
Production: RGKSKSRG
Videography: Vivienne Dick, Rouzbeh Rashidi, Jesse Scales Dick
Music: Martin Wheeler
Design:  Alex Synge / The First 47
Technical Support: Ciarán Hickey
Vivienne Dick is an Irish filmmaker who makes multilayered, open-ended work framed from a female perspective and with an interest in sexual politics, music and philosophy. The artist's early work is associated with the No Wave film and music movement of late 70s New York, and she is currently making a Reel Art documentary relating to this period of her life. Dick's work has been shown at many festivals and museums, including MoMA New York, Lisbon Estoril, and Filmhaus Vienna, with a survey of her work shown at IMMA Dublin in 2017. Retrospectives include Crawford Art Gallery (2009), Tate Modern (2010), and SEFF Seville (2016). Her work is in the collections of The Irish Film Archive, LUX, Anthology Archives and MoMA, New York. She is a member of Aosdána and her work is distributed by LUX UK.

RGKS Cribs #3: Eithne Jordan
Online: July – October 2019
Artist: Eithne Jordan
Production: RGKSKSRG
Videography: Louis Haugh
Music: Timothy Cullen
Design: Alex Synge / The First 47
Technical Support: Ciarán Hickey
Eithne Jordan was born in Dublin where she studied at Dun Laoghaire Institute of Art, Design & Technology from 1972-76. She was awarded a DAAD scholarship in 1984 to study at the Hochschule der Künste in West Berlin, where she subsequently lived for several years. Since 1990 she has worked between Languedoc in the south of France and Ireland. Her work is in major public and private collections in Ireland, Europe and the US and she is a member of Aosdána and the Royal Hibernian Academy.
About RGKSKSRG
RGKSKSRG is the paired curatorial practice of Rachael Gilbourne and Kate Strain.
Showing onscreen as part of Museum of Contemporary Photography of Ireland are the RGKS Cribs videos by artists Christopher Mahon, Vivienne Dick, and Eithne Jordan.
A selection of limited edition Giclée archival pigment prints, signed by the artists and produced in editions of 10, are available for purchase. Please email rgksksrg@rgksksrg.com for more details.
RGKS Cribs is made possible with support from The Digital Hub, Dublin City Council, Dónall Curtin and other private patrons.
Thanks to the artists and filmmakers for their contribution. The copyright of each of these pieces remains with them.