SPECIAL PROGRAMME 8 JULY-25 AUGUST 2022
Main Gallery
On the Exactitude of Science,
Alan Butler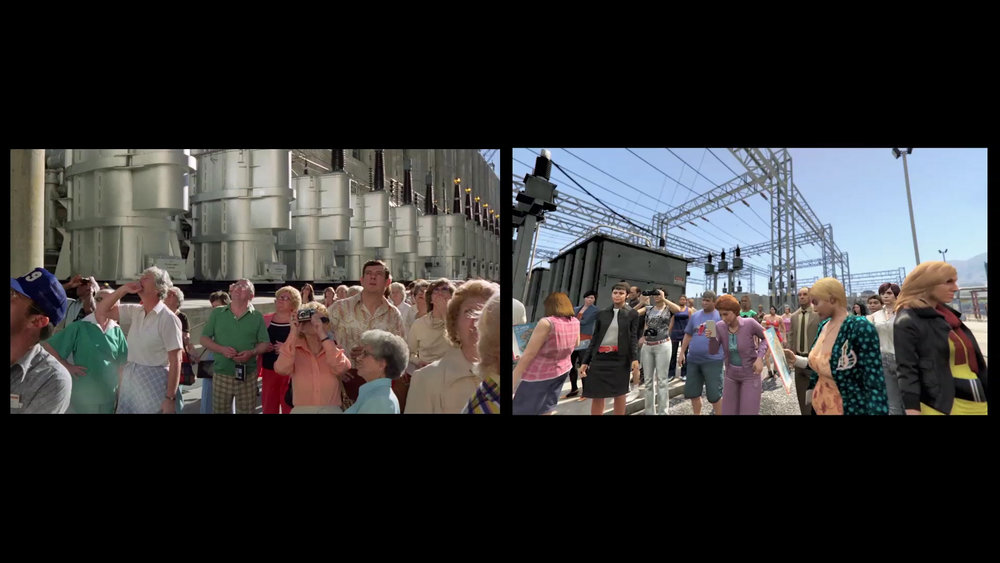 Launch 6pm 7th July 2022
Running 8th July-25th August 2022
On Exactitude in Science is a two screen video installation, featuring a synchronised presentation of Godfrey Reggio's KOYAANISQATSI 1982) & Alan Butler's KOYAANISGTAV (2017) with a running tome of 1h 27m.
On Exactitude in Science takes its name from the Jorge Luis Borges short story, Del rigor en la ciencia (1946). This passage describes an ancient, fictional civilization that creates a 1:1 scale map of their territory. Borges, who annotated this text under a pseudonym, in fact based the work on an extract from a Lewis Carroll work first published in 1889.
Using two video screens, this installation comprises the Godfrey Reggio motion picture KOYAANISQATSI (1983), presented in synchronicity with Alan Butler's shot-for-shot remake KOYAANISGTAV (2017). The work by Reggio was chosen by Butler as a cultural artifact, and a paragon of the most popular visual media of the 20th century, film. The original motion picture does not follow a formal screenplay as such, instead embodies a poetic, pictorial mode of documentary film-making. Using KOYAANISQATSI as a screenplay itself, Butler has transposed this work into a new form using the virtual worlds within the Grand Theft Auto video game series.
Originally Commissioned by IMMA – Irish Museum of Modern Art, 2017.
An edition of this work is in the Collection of the Irish Museum of Modern Art, Purchased 2018.
Koyaanisqatsi (© IRE 1983, All Rights Reserved)
courtesy of Godfrey Reggio and the Institute for Regional Education
SPECIAL PROGRAMME 8 JULY-25 AUGUST 2022